The Commen Way To Wash Clothes
Share
Issue Time

2019/08/03
Summary
How To Wash Clothes Correctly(Important For Wholesalers)-Hucai Sportswear
The Commen Way To Wash Clothes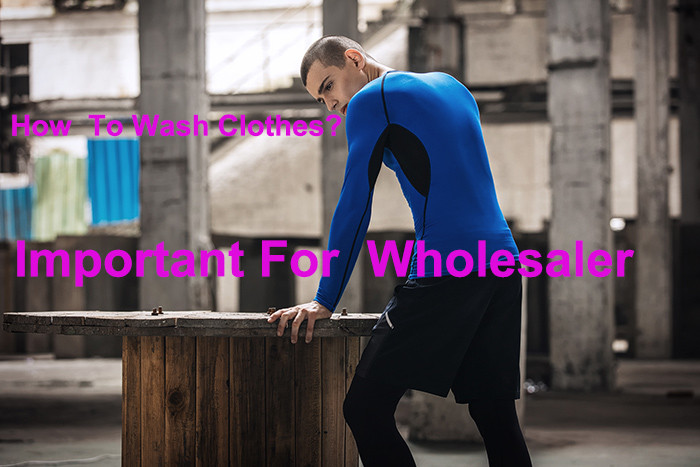 As a wholesaler or apparel brand sales,It is necessary to know the advantags of the apparel which they sale.Besides,They should also be able to tell people how to wash the clothes.Below,We are happy to introduce the commen way to wash clothes made of different material.
1. Cotton and linen fabric
Cotton and linen fabrics give people a sense of returning to the original, in which pure hemp is called "the queen of fibers in natural fibers", which has the remarkable characteristics of sweat absorption, good breathability and harmless to the human body.
laundry guide:
Try to wash at room temperature as much as possible. Do not soak for a long time. It is best to wash it in water. It is recommended to use a neutral detergent. Avoid using bleaching liquid. Wash it with anti-sun, avoid twisting after washing, avoid exposure.
Light-colored, white cotton-type clothing can be soaked for half an hour and the decontamination effect is better. Dark colors should not be soaked for too long to avoid fading. If ironing, choose when the clothes are half dry.
Most of the t shirts and tank tops are made of this kind of material,So this should be helpful for people who sale wholesale t shirts or wholesale tank top.
2. Knitted fabric
Knitted fabrics have a soft texture, moisture absorption, excellent elasticity and extensibility, and their productivity. Knitwear is comfortable to wear, fit and body, no restraint, and can fully reflect the human body curve.
laundry guide:
Since the fabric will shrink slightly and it is easy to pilling, it is not suitable to hang the sun. When cleaning, the clothes of dark color should be washed separately. The clothes with silk composition can add a little vinegar to the water during washing. The washed clothes can increase the brightness.
Most of yoga pants,sports bra,jogger pants,hoodie are made of this kind of material,So this should be helpful for people who sale wholesale yoga pants,wholesale sports bra,wholesale jogger pants,wholesale hoodie.
3. Silk fabric
The soft and comfortable silk fabric is notoriously good, giving a comfortable and intimate feeling. Its noble temperament is elegant and soft in the echo of the cheongsam, and it is full of romantic charm.
laundry guide:
Silk clothing must be warmed with water below 30 degrees when washing, gently wash by hand, can not invade for a long time. It should not be washed with alkaline detergent or soap. When drying, it must be hung on a smooth hanger to avoid hanging and not drying.
4. Lace fabric
Lace fabric has a strong elegance, which is the fabric that many women's clothing will use.
laundry guide:
Lace fabric should be hand-washed, preferably washed with a neutral detergent. Machine wash should be placed in a laundry bag. Higher-grade lace products are best sent to the laundry for cleaning. After washing, the laces are ironed with a low-temperature iron. Remember to use alkaline detergents, bleaches, etc., which are harmful to the fabric. The agent will greatly affect the stability of the color.
5. Blended fabric
Blended fabrics are woven from different materials. In the dry and wet conditions, the elasticity and wear resistance are better, the size is stable, the shrinkage rate is small, and it has the characteristics of straightening, not easy to wrinkle, easy to wash, and quick drying. It cannot be immersed in high temperature ironing and boiling water.
laundry guide:
Machine washable or hand wash, it is recommended to use special laundry detergent, such as silk linen detergent, silk detergent, cotton wool washing liquid. Chlorine and enzyme washing supplies are prohibited. Avoid using a hard brush and rubbing hard to prevent the fabric from fluffing. Do not squeeze hard after washing, do not use hot water to heat the colored fabric. Avoid exposure to the sun.
Contact information:
E-mail: admin@hcsportswear.com
+8613602338395