What Is The Best Material For Men And Women Gym Wear
Share
Issue Time

2019/08/10
Summary
The Material To Use For Gym Wear-China Gym Wear Manufacturer
What Is The Best Material For Men And Women Gym Wear?
It is obviously the material use to make gym clothes can be very important!We use different kinds of material for different designs.
Lets introduce the material to use for each designs: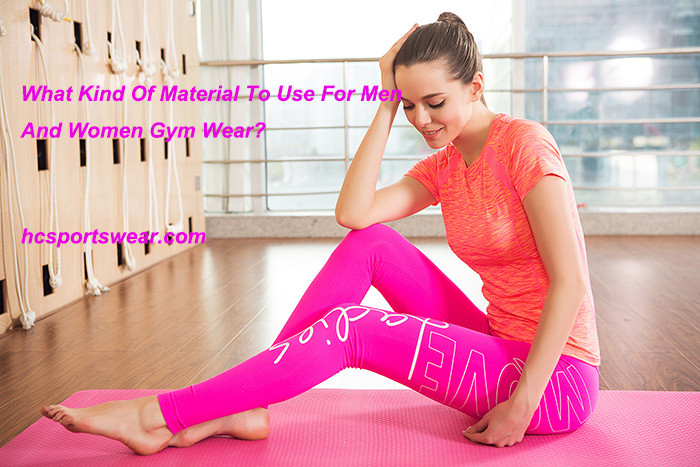 1. The Material To Use For Women Leggings,Sports Bra,Shorts
Even though many people like to use polyester material for women leggings,sports bra and shorts.However,To improve the quality of the products,It is better to use nylon material.
Compare with polyester material,Usually nylon material is softer.So it wears more comfortable than polyester material.
Further more,Some gym wear manufacturers provide cotton feel nylon material.And it wears extremely comfortable.
2. The Material To Use For Women Tank Top,T Shirt
Even though many people like to use cotton material for women tank top and t shirt.However,We will recommned to use bamboo or model material.
Compare with normal cotton material,Bamboo and model are more natural material.These material are both extremely soft and light weight.These properties totally satisfy the demand that women prefer to wear soft and cool gym wear during summer.
Besides,Bamboo and model provide extra pretection such as antibacterial,more breathable etc.
Different manufacturer provide different quality of these material,So it is also very important to find a fitness clothing manufacturer that provide good quality material.
3. The Material To Use For Mens T Shirt,Tank Top
We will recommend to use polyester or cotton material for mens t shirt and tank top,If you only would like use them as casual wear,We will recommend to use cotton material because cotton is more commen and soft material.If you also would like to wear them when do gym,fitess,training etc,We will recommend polyester material.
Contact information:
E-mail: admin@hcsportswear.com
+8613602338395