5 Steps For Fitness Celebrities To Create Private Brand Clothing
Share
Issue Time

2021/05/15
Summary
If you are an influencers and would like to build up your own clothing brand.However,You do not know how to start with,Please feel free to contact with Hucai Sportswear.
5 Steps For Fitness Celebrities To Create Private Brand Clothing
We have seen a new trend: fitness clothes brands are at the helm of our favorite celebrities/Influencers. If you are an influential fitness celebrity and want to create your own brand of fitness clothing. But I think this is a challenging process. I don't know how to start? Please contact the accredited activewear manufacturer Hucai, we have a large number of blank clothing series more suitable for private labels.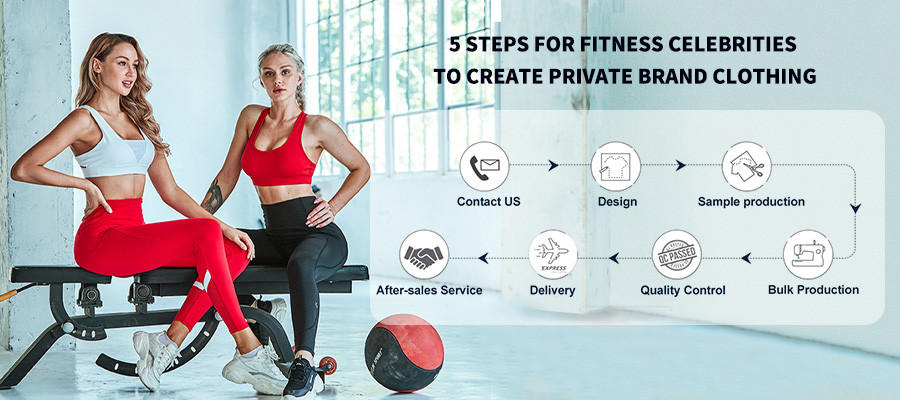 So how to create your own private brand fitness clothing series? Detailed information is provided in the following News, let us understand what they are:
1. Check our product catalog to choose styles and tell us what you think
There is no need to understand too much about the technical issues in the sportswear production process that many start-ups may be most worried about. As one of the leading wholesale supplier for athletic wear in China, Hucai has more than 20 years of experience in the production of activewear clothing. We have successfully planned many unique fitness clothing series, both style and performance. When you look at our product catalog, our workout clothes series will impress you. Choose the style you want, contact our sales representative, and get private label service (including your logo, location to be customized, custom washing label, elevator, plastic bag, etc.). In addition, we can also help you meet the needs of customized clothing, as long as you can provide your design ideas (reference samples, inspiration photos, sketches, etc.).
2. Create a sample and send it to you
After discussing the product details with our professional sales representatives, we will create an official document (product renderings and other information) for your confirmation. After you confirm, we will make samples for you (at this time, you only need to pay a small sample fee). After the sample is made, we will send it to you so that you can test the quality, size and all other details.
3. Order payment, mass production
When you feel good after receiving the samples and request mass production, we will quote according to your order quantity. (Payment term: deposit 40% of the deposit before production, and deposit the balance before transshipment). Before large-scale cooperation, you need to confirm the price, delivery date and shipping method.
4. Quality Control and Transit
As a leading sportswear manufacturer in China, hucai activewear cares about your feelings. We provide recorded videos, photos, online videos, etc. to show you directly, the production process of fitness clothes, and quality inspection. At the same time, we provide a one-stop door-to-door service, and we will provide the best transportation method that meets your freight forwarder's requirements. In addition, you can also contact your designated transportation company to pick up the goods in our warehouse!
5. After-sales service
During your sales process, if product quality problems occur, we will deal with them in a timely manner. And always ensure that the products are delivered to you in a safe and timely manner.
Therefore, if you are a celebrity who wants to launch your own brand of personal activewear, please contact Hucai for a large number of personalized products, and we will spare no effort to provide you with the best service.