5 Reasons Why You Should Wear Sports Bra To Do Sports
Share
publisher

Ken
Issue Time

2022/03/28
Summary
The article mainly introduces 5 reasons why you should wear sports bra to do sports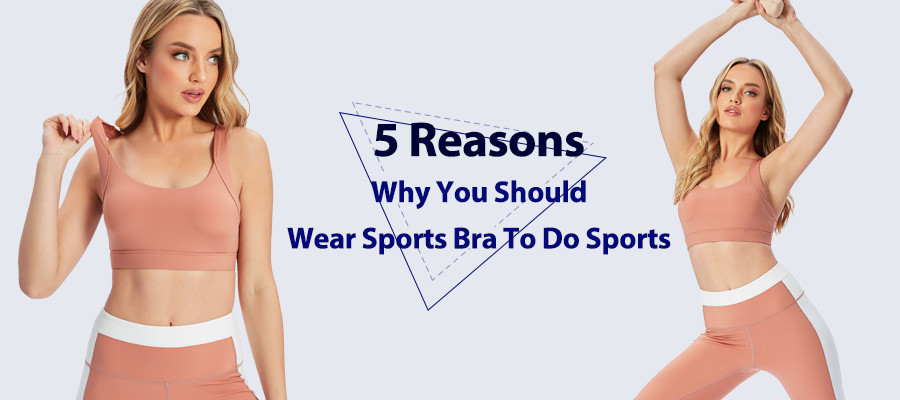 There are many benefits to wearing a sports bra for exercise because not only does it provide comfort, but it also provides protection for the breasts. Nowadays, sports bra has also become a part of fashion, and more and more people are wearing sports bra to go out. So I will present 5 reasons why you should wear sports bra for sports.
Protect your breasts
Wearing sports bra helps protect your breasts. During exercise, the muscles and ligaments of a woman's breasts move up and down, which can cause pain in the breasts after exercise. Wearing sports bra can limit the movement of your breasts, so you won't feel pain after exercise. And wearing sports bra can also effectively stop your breasts from sagging.
Sports bra becomes fashionable
Sports bra is not only worn during sports, but also in everyday wear. Celebrities such as kyle jenner and Jennifer lopez have been photographed wearing sports bra on many occasions. sports bra has become a fashion trend.You should have sports bra in your closet.
Stay comfortable
A good quality sports bra will keep you comfortable during exercise, it will wick away sweat and keep your chest cool. Sports bra usually use spandex, polyester, nylon and other fabrics. These fabrics can keep us comfortable while exercising, but also can greatly improve the efficiency of the movement.
Provide support
Unlike a regular bra, a sports bra is very supportive and he can reduce the movement of the chest during exercise. It doesn't slide easily, so it doesn't slip off during your workout.
Reduce shaking
If you choose ordinary bra for exercise, your breasts will sway considerably during exercise, which will cause inconvenience during the exercise. Choose sports bra can be well fixed chest, play the role of shock absorption
HC sportswear has been developing in the sportswear industry for more than 20 years and has extensive experience in manufacturing sports bra. If you are looking for a wholesaler of sports bra, hc sportswear will be your choice. hc sportswear products are tested by quality assurance team.Our fitness clothes have high color fastness and low color deviation.Also, we support customize service, you can customize compression clothing at hc sportswear, the color material printing is up to you.For more information,please contact us!
Contact information:
E-mail: admin@hcsportswear.com
+8613602338395
Houndstooth Pattern Digital Printing Fitness Sports Bra Custom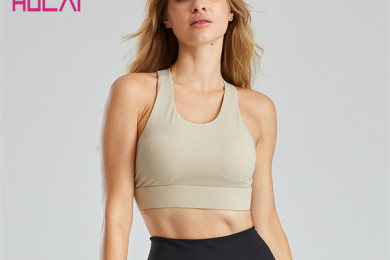 Pure Color Fitness Yoga Anti-sagging Sports Bra Wholesale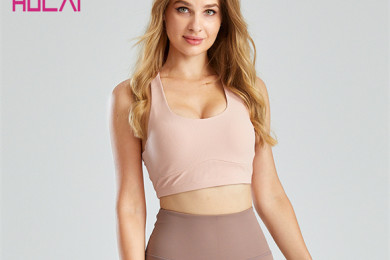 Gym Shockproof Gather Stereotype Sports Bra Wholesale