The World Cup is Coming, Ready To Customize Scoccer Jersey At HC sportswear?
Share
publisher

Ken
Issue Time

2022/04/02
Summary
What benefits can you enjoy by customizing your soccer jerseys at hc sportswear? Take a look at the article and you will find out!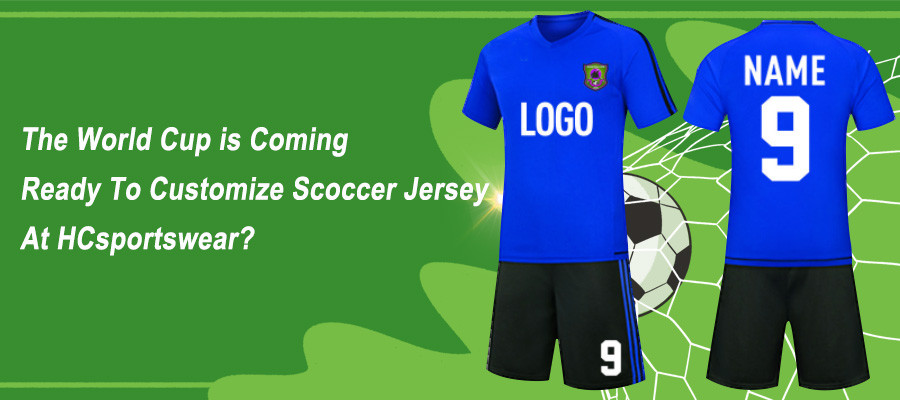 Just finished the World Cup group stage draw today, which is your home team? With 7 months to go until the World Cup kicks off,the demand for soccer jerseys will increase greatly during this time, and people will be wearing them to support their teams. Ready to add a soccer jersey collection to your sports brand? Soccer jersey will be your hot selling line during this period!What are the benefits of customizing soccer jersey at HC sportswear? Take a look below and you'll know
1.We  have a professional design team that can customize the uniforms according to your needs.You need us to provide design options, then we will communicate with you and have a deep understanding of your brand concept, and design a series of products that fit your design concept, and push you to choose.
2. We offer the latest fabrics and can customize your soccer jerseys to the fabrics you need. Whether we purchase the fabrics from our suppliers or we process the semi-finished products, we conduct quality checks to ensure the quality of our products.
3. We have our own factory.We not only have our own factory, but the sales team and the factory are in the same location. What does this mean? This shows that our sales team can quickly tell the brand the progress of your order, and can also provide online video, pictures, etc., to provide intuitive feedback to the brand. For the brand, it will undoubtedly give itself The sales increase confidence.
4. We guarantee the quality of our products.In the production process, there are quality inspection teams at all stages. After the fabric is ordered back, we will do the first quality inspection to check the fabric, the second time is cutting the fabric after processing. The third time is the quality inspection after the finished product, and the fourth time is the quality inspection when packing. It can be said that quality inspection is carried out throughout the entire production line to confirm high quality products for shipment.
5.Our production speed is guaranteed, from order to delivery, it only takes four to five weeks.We want to deliver the goods to you as fast as possible
Better to act than to be impressed.With the World Cup still some time away, take this time to add soccer jerseys to your brand. If you have any idea, you can contact us and we will give you a satisfactory reply.For more information,please contact us!
Contact information:
E-mail: admin@hcsportswear.com
+8613602338395