Things to be concerned about in women's fitness wear
Share
publisher

Ken
Issue Time

2022/04/14
Summary
The article will introduce the common mistakes women make when choosing fitness clothing and how to solve them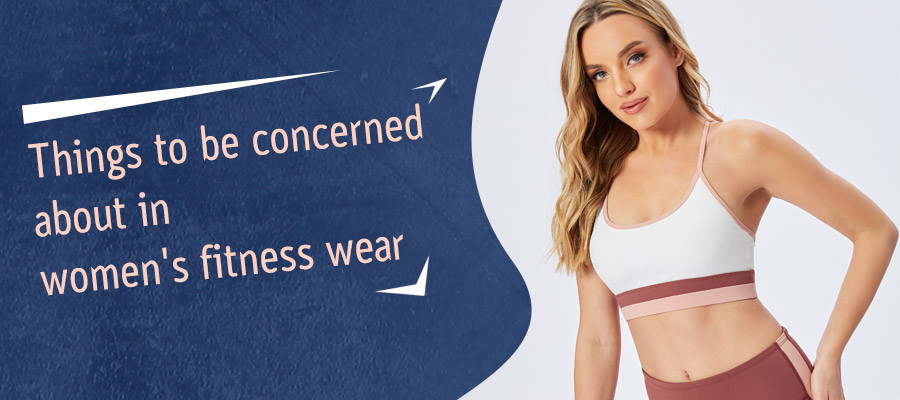 With the development of the times, more and more women will also go to the gym to work out, but in the choice of fitness clothing will make some problems. Choosing the right fitness clothing can effectively enhance the efficiency of exercise and protect your body, otherwise it may cause harm to your body. So the following will discuss these issues and make suggestions.
Choose professional sportswear
Wearing a loose t-shirt or tank top may be comfortable, but it is not suitable for long, high-intensity exercise. They are only suitable for short periods of exercise. For example, a walk or a few minutes of exercise. Therefore, you should buy a set of professional sportswear before you play sports. Professional sportswear can support your muscles well, protect your body and reduce physical fatigue. It can also promote your body's recovery. Remember, please do not wear your daily clothes for exercise.
Choose a size that fits
Choosing sportswear does not mean that you have to choose very tight fitting ones, excessive pressure can make your body feel uncomfortable. For example, instead of wraparound sports underwear for small breasts, you need compression sports underwear. You need to understand your body's needs and what makes you feel comfortable. It is important to let the garment adapt to your body, not let your body adapt to the garment.
Fabrics are important
Many people will make this mistake and wear cotton clothes to the gym. This is the wrong approach, wearing cotton clothes to exercise, both breathable and uncomfortable. And after exercising your clothes will absorb your sweat, become heavy, and may become smelly. So you need to look for fabrics with quick-drying properties, not cotton. For example, spandex, nylon, etc. If we don't pay attention to the fabric when picking out sportswear, we're making a major mistake!
As more and more women go to the gym to exercise, the demand for women's sportswear will grow with them.If you are looking for a manufacturer of high quality women's fitness wear, you can visit our website. The fabrics we use are of the highest quality.We are a wholesaler of sportswear located in China and have more than 20 years of experience in producing sportswear with rich experience and technology. We can print your brand's exclusive logo and label, and we have quality control for every production process.For more information,please contact us!
Contact information:
E-mail: admin@hcsportswear.com
+8613602338395