Share
publisher

wuyuhao
Issue Time

2023/07/01
Summary
HUCAI is BSCI certified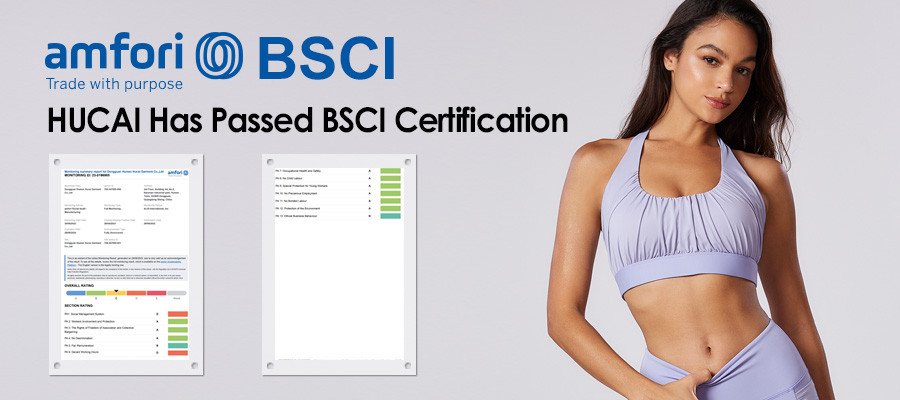 HUCAI is BSCI certified
As a sportswear supplier, HUCAI has passed the BSCI certification through our unremitting efforts. BSCI is the most authoritative certification body in the world, and this certification not only demonstrates our concern for labor rights and sustainable development, but also highlights our excellent ability to collaborate. The following highlights our strengths and values as a custom sportswear supplier.
1. About the importance of BSCI certification
As a global industry, social responsibility in the sportswear supply chain has attracted much attention. BSCI certification is a certification system based on international Labour standards, ensuring that Labour rights are respected and promoting transparency and sustainability in supply chains. By achieving BSCI certification, we not only demonstrate, but demonstrate our commitment to upholding ethical principles and high standards.
2.Secondly, emphasizing the importance of partnership
In the highly competitive environment of the custom sportswear market, building strong and long-term partnerships is essential. We know that close cooperation with customers and suppliers is the foundation of success. By working with HUCAI, you will experience the following advantages:
We have an experienced and creative team that is familiar with sportswear industry trends and customer needs. We will work with you to develop innovative products and designs such as sports shorts, sports T-shirts, sports jerseys and more to meet the changing market needs.
BSCI certification requires us to achieve transparency and sustainability in our supply chain. We ensure the quality and reliability of our products by establishing an effective supply chain management system. You can count on us to minimize risk and increase efficiency.
3)Social responsibility:
We are socially responsible for Labour rights and environmental protection. With BSCI certification, we ensure that no child or forced labor is used and are committed to providing a safe and healthy working environment. You can work with us to promote the values of social responsibility.
The BSCI certification not only shows our professional quality and high standards as a sportswear supplier, but also highlights our excellent performance in terms of cooperation. We look forward to building a long-term partnership with you to jointly promote the sustainable development of the industry and create a better future.
We have also provided samples for you to test. We assure you that this product will work well, the product can be customized to your preferences, and we look forward to hearing from you and continuing our business partnership. If you are interested in our products, please contact us today, our professional sales staff will answer your questions. Thank you for your time and consideration.
E-mail: sales01@hcsportswear.com
+8613602338395